Anne Duffin (RIP)
Anne Duffin has been a much loved member of our Church community for many years and died peacefully on Wednesday 2 January 2019 after a short illness.
Anne was a wise, generous and cheerful person - always positive, even when life was challenging. She lived life to the full and independently and had many close friends. She loved her family and it will have been a comfort that she was cared for in her last days by her loving nieces and nephew.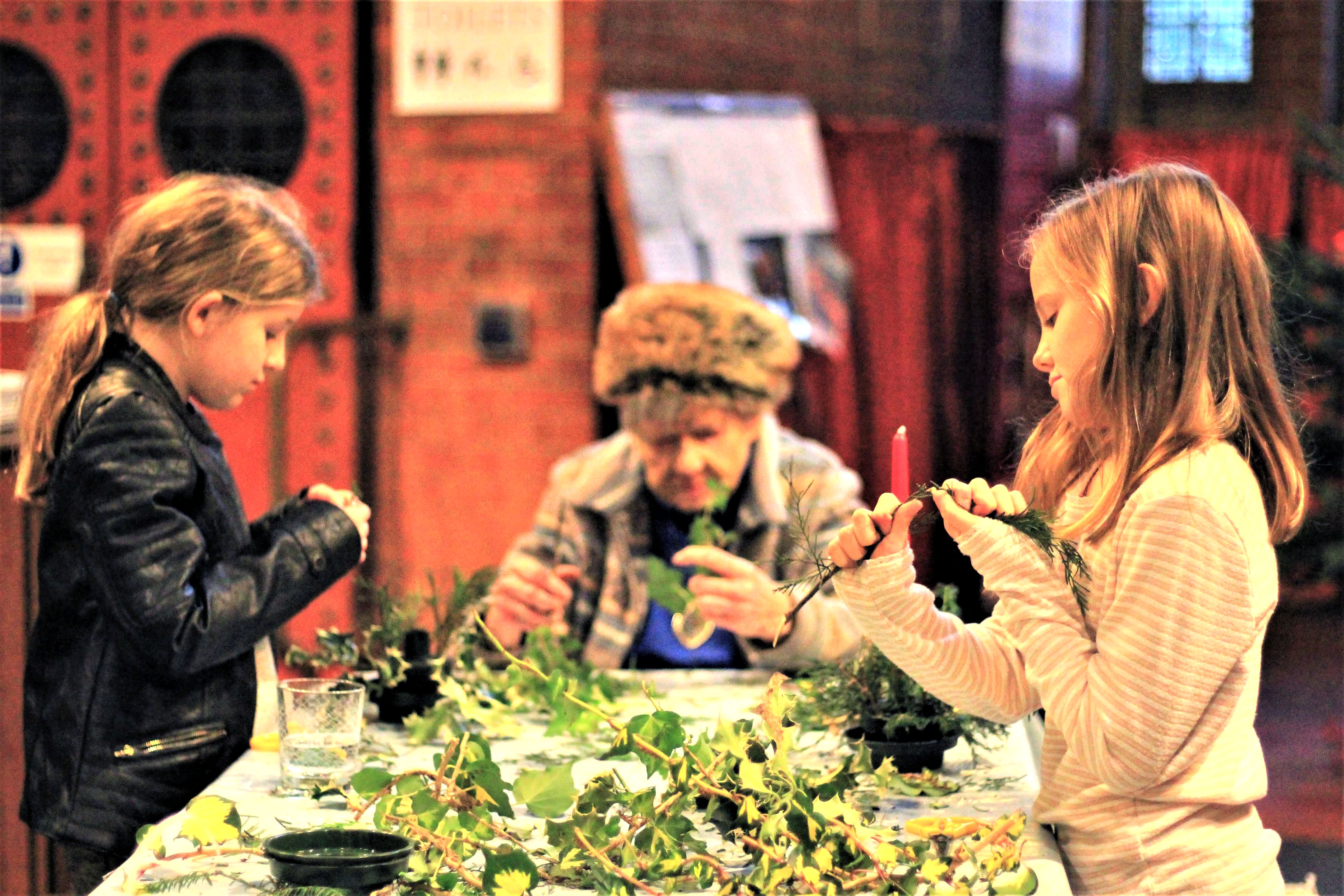 The picture here shows Anne, only a few weeks ago, making Christmas decorations at our Advent workshop with some of the children. She was always young at heart and enjoyed encouraging others.
She was much loved here at St Michael's. And one of her friends, Lesley Pendlebury, wrote this lovely poem after a recent Sunday morning church service when she had missed Anne.
Remembering Anne
by Lesley Pendlebury
    The church was empty today. 
    I missed our concern that 
    None of us had sat 
    In your usual seat. 
    I missed your sticks which always fell 
    At just the wrong moment. 
    I missed that little pause 
    Whilst we waited 
    For you to rise and join 
    The Communion queue. 

    I shall miss you on Tuesday 
    When we meet to 
    Read the Bible. 
    No one else will ask me 
    For a coffee, black, no sugar. 
    No one else will give a 
    Merry peal of laughter 
    Quite like yours. 
    Whatever was absurd or 
    Inconsistent was 
    A joy to you. 

    I will miss you on those days 
    When we, at your request, 
    "Say It to God", 
    And, when I say that I 
    Am struggling, I will miss 
    Your quick and comforting response. 
    You always knew the prayer 
    To point me to. 

    I only knew you for a little while 
    Drawn as I was to sit close to you 
    In our church. 
    Betty and Anna graced those 
    Pews as well 
    I feel – for them - the loss of their 
    Dear friend. 
    So briefly did I know you that I 
    Am scarcely entitled to 
    Mourn for you. 

    And yet I miss you, for your courage 
    And your wisdom 
    Your cheerfulness, 
    Your gaiety and gallantry 
    You showed me much to which 
    I can aspire. 
    I give thanks for your presence 
    In my life 
    For this short while; 

    And I can understand so well 
    Why God desired 
    Your company.

Anne had a distinuished career working for NATO and later for the publishers Curtis, Brown.
Anne was a faithful and committed Christian and was an inspiration and source of guidance for us all. She will be greatly missed. Nonetheless, we know that Christ has prepared a place for her in His father's house and she is now there and at peace with Him.
Anne, may light perpetual shine upon you and may you rise with the saints in glory.
Anne's funeral was conducted by Rev Martine Oborne at St Michael's Church - at 11am on Thursday 31 January 2019.
The Funeral Address was given by Rev Richard Carter and is published here:
The fruit of silence is prayer. The fruit of prayer is faith. The fruit of faith is love. The fruit of love is service. The fruit of service is peace.
These words are written by Mother Teresa. Katherine Hedderly who is on retreat at the moment sent them to me because she thought they applied so perfectly to Anne Duffin. I like all of you was incredibly fortunate to know Anne. If I needed words which could describe her those are words I would use: prayer....faith...love...service... peace.
I first met Anne 12 years ago when I moved from the other side of the world to live and work at St Martin-in-the-Fields in London. It was a massive move for me and I was all at sea in the centre of the city. It was dear Anne who centred me as she centred so many of us. You see Anne's life was anchored, anchored in faith, love, service and peace.
At St Martin's she invited me to attend her fortnightly meditation group which I have been attending ever since whenever I can. She would give us each a slip of paper with words she had written on the paper in our own handwriting. Here for example is one of the phrases she would gave:
"Let your will be my will, a spring of knowledge, springing up to life eternal within me."
Then off she would go with her deep chesty, 20 a day voice, into reflections many of which she had written herself peppered with quotations from Thomas Merton, Evelyn Underhill or Marian Dunlop.
Here is an extract from one of those reflections she wrote:
"Hamlets question to be or not to be, is in a sense a question vital to us all, not only to those who have lost the spring of action. For if we could be released from the limitations of life ruled by self-will, and could enter the freedom of knowing we were doing God's will, then, as we turn to Him, we shall learn the first thing God wills for us to be, to become the person he intends us to be, not to do but to be, for what we do depends on what we are....
"Let your will be my will, a spring of knowledge, springing up to life eternal within me."
A well spring- a deep unending source. We may in our lives have drawn water from various wells only to thirst again, but the water from the well spring of knowledge which He will give us satisfies our real need. For our source has put within us something of Himself, which is our true substance, which longs to be united with him, and we cannot rest until we rest in his peace or know true joy until we know joy's fullness in his presence."
Anne's words would lead us into periods of silence at the end of which she would float the names of people we had asked her to pray for. Often, it has to be said, at the
end of a long St Martin's day I was lulled into such peace by her soft gravelly meditations that I found myself fast asleep and once woke myself up with my own snore. I remember apologizing profusely but Anne only replied that God obviously was giving me the gift of rest.
She often invited me to her home in Chiswick for lunch or tea. She opened the door to me on the edge of that busy carriageway with her chesty cough and twinkling eyes and led me into her flat- where I like many others before and after me have been lavished with hospitality. Anne was such an alive and interesting person. Not only did she love books and literature and theatre she was also like the best character that you have ever met in a novel because she drew you into her love for life, and ideas and people and God and made you feel when you were with her that you too were special... yes like the most amazing aunt or Godmother or friend. She poured cups of tea for you in big bone china cups, or cakes, and there was always more than one, including coffee cake, which I had not eaten since I was a child, with so much icing that it was impossible to eat without licking your fingers and before you had finished the first piece of cake she was there with another plate of buttered sticky bread. And all the time she wobbled precariously down the steps into her tiny cluttered kitchen she would be joyfully chatting sharing insights and thoughts and memories with an intelligence as sharp as a razor, a spirit as clear as a meditation bell and a heart as deep as an ocean.
Like many others at St Martin's and beyond I came to love Anne. She was quite simply a treasure trove of wisdom and goodness. She was no push over either- come wind or snow she would battle into St Martin's to lead the meditation and when during the redevelopment at St Martin's they said she could no longer use the church for her meditation she led the group in the porch with the wind howling round the portico. "They'll be putting us in the broom cupboard next" she said. The group finally ended up at my flat on the 22nd floor in Victoria until the church reopened. If she thought something or someone was not right she would say so. She was steadfast, a rock, for us all. As many of you will know, she made a huge contribution to St Martin-in-the-Fields going back 60 years to the early years when Austen Williams was vicar of St Martin's. She was remarkably active during that time: she was on the PCC and for many years a hugely dedicated membership secretary for the Friends of St Martin's- faithfully answering letters and keeping in touch with a wide circle of relationships with St Martin's across the country and across the world.
She was an active participant in nearly all education events and courses. She contributed regularly to the St Martin's Review. She was actively involved in the Christmas Appeal, helping homeless and vulnerable people. She was incredibly faithful but also ready to face change with courage and independence. When her mobility meant she could no longer get to St Martin's she became a devout member of her local church St Michael's Chiswick, which she loved and when she visited us always talked of the exciting programmes in which she was involved, active to the last.
She led us all into a deeper place- a place of peace and healing- a still sacred place-she led us to the very heart of our Christian faith.
The readings that you have heard today Anne chose herself
Ephesians 3.4-21 and John 14.1-6. They are beautiful readings and as I read the words from Ephesians I realized no words could sum up more perfectly Anne's own faith and prayer or her prayer for each one of us. I would like us in memory of Anne and as she herself would have often to just spend a few moments in silence meditating upon the wisdom and beauty of those words:
I pray that according to the riches of his glory, he may grant that you may be strengthened in your inner being with power through his spirit and that Christ may dwell in your hears through faith, as you are being rooted and grounded in love. I pray that you may have the power to comprehend with all the saints what is the breadth and the lengthy and height and depth and to know the love of God that surpasses knowledge, so that you may be filled with all the fulness of God.
"What did you love about Anne," I asked Alison Hardwick , one of her closest friends at St Martin's. "She was the most tremendous example to me of how to live with faith and grace- I could always turn to her," Alison said. Yes you could always turn to Anne because you knew Anne was turned to Christ. She turned to Christ and she taught us to do the same- Her life showed us how to do just that, practically, steadfastly, without artifice or self-righteousness or pretence. Simply to turn to Christ. To be filled by his presence. That's what she taught. Right through all the joys and struggles she taught us to turn to Christ. And through that turning to Christ to be rooted and grounded in love, so that like Anne and all the saints we too would know what is the breadth, length, height and depth and to know the love of God that surpasses knowledge, so that we may be filled with the fulness of God.
I know that Anne's prayer for each one of us continues in heaven
She will be praying for us all to be rooted and grounded in God's love, just as she was.