HoC - Roll of Honour - Ernest Richard Arundell
HOME PAGE -- ROLL OF HONOUR -- CHISWICK'S MEMORIALS
-- RESEARCH EXHIBITS -- PEOPLE AND PARISH -- CONTACT US
Ernest Richard Arundell -- Edward Pius Bendix -- Rodney James Mansfield Bowdidge
Private 4651 Ernest Richard Arundell
28th Battalion, Australian Imperial Force 12th Reinforcements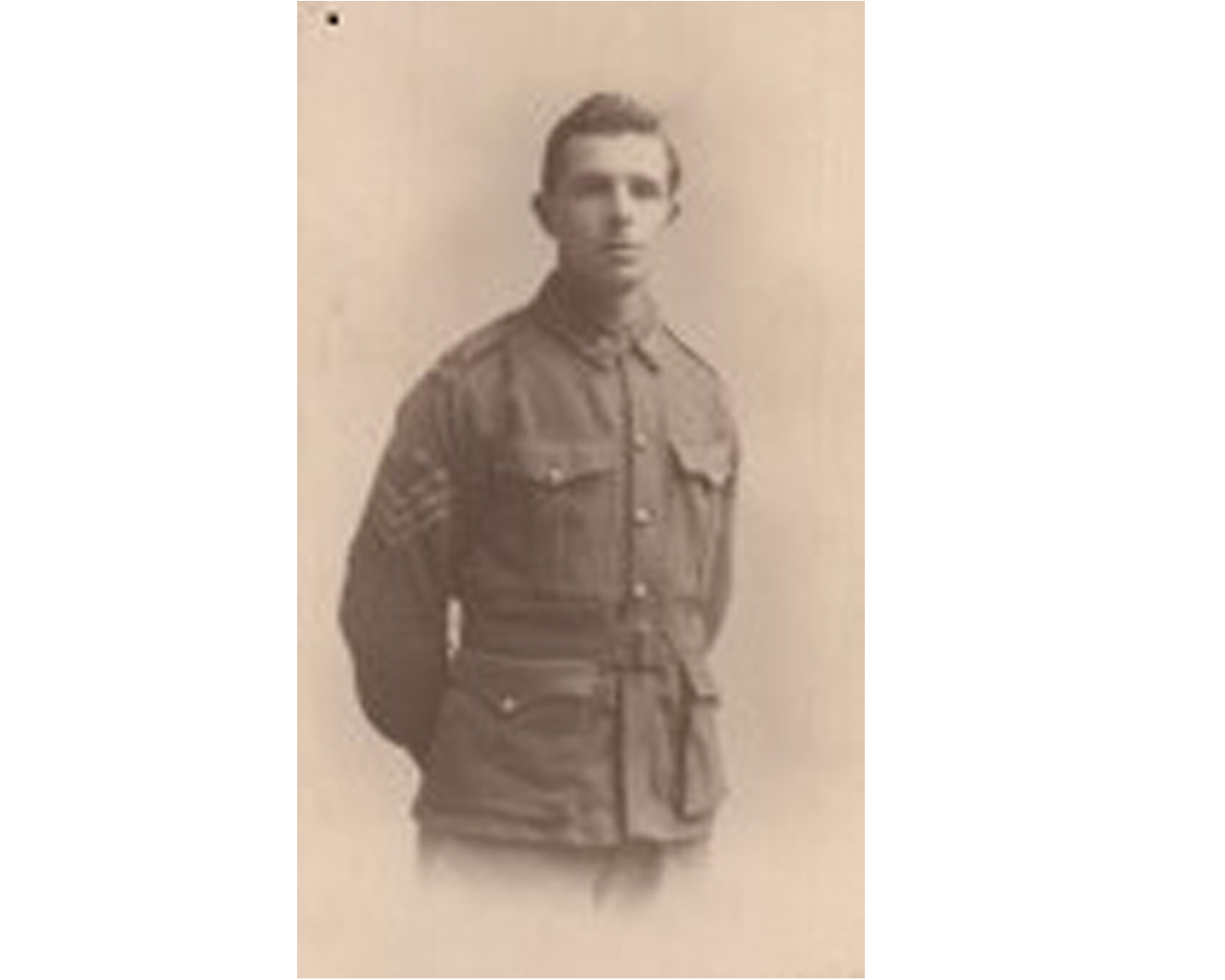 Ernest was the born in 1890 in London, the son of Robert Arundell and his wife Annie. He had a younger brother Sydney b1892 and a sister Muriel b1898. During his early years the family lived at a number of addresses but by the time of Ernest's death in March 1917 the family home was recorded as 21, Grove Park Terrace Chiswick. Robert Arundell, Ernest's father, was a very well known and successful builder whose business had prospered with the development of Grove Park as a residential area following the sale of land by the Duke of Devonshire.
Having initially been employed in the family business he subsequently left to join an uncle in Australia to begin a new career in farming. Records at the National Archives, Kew show Ernest left Liverpool aboard the Albany bound for Australia on April 6th 1911.
Ernest enlisted in the Australian Imperial Force (AIF), 28th Battalion on 30.12.1915. The battalion was originally raised in 1915 at Black Boy Camp, Perth, Western Australia. Many service records pertaining to the British Army were lost in a fire during WW2. However, AIF records are more complete and Ernest's army records can be seen in full and without charge on the National Archives Australia website.
On enlistment Ernest was described as being 5 feet 8 inches tall with dark complexion, brown eyes and hair and weighing 129 pounds. Following enlistment he travelled back to England before deployment in France. We also learn from the records something of the circumstances surrounding his death on March 29th 1917. On March 28th he suffered wounds to an arm and a compound fracture of the femur caused by high explosives. Though transferred to No3 Casualty Clearing Station it was not possible to save his life. Ernest was subsequently buried at Aveluy Communal Cemetery Extension, Department of the Somme, France.
There are copies of documents signed by Ernest's father giving power of attorney to Captain Arundell in Australia and perhaps most poignant of all is a copy of the 'receipt of effects' signed by Ernest's mother. One can only guess what she must have felt as she opened the small parcel.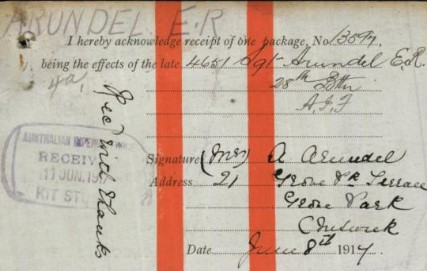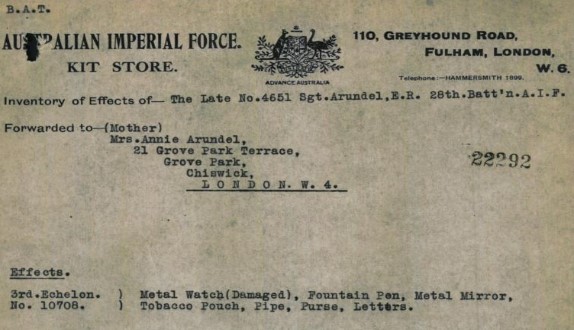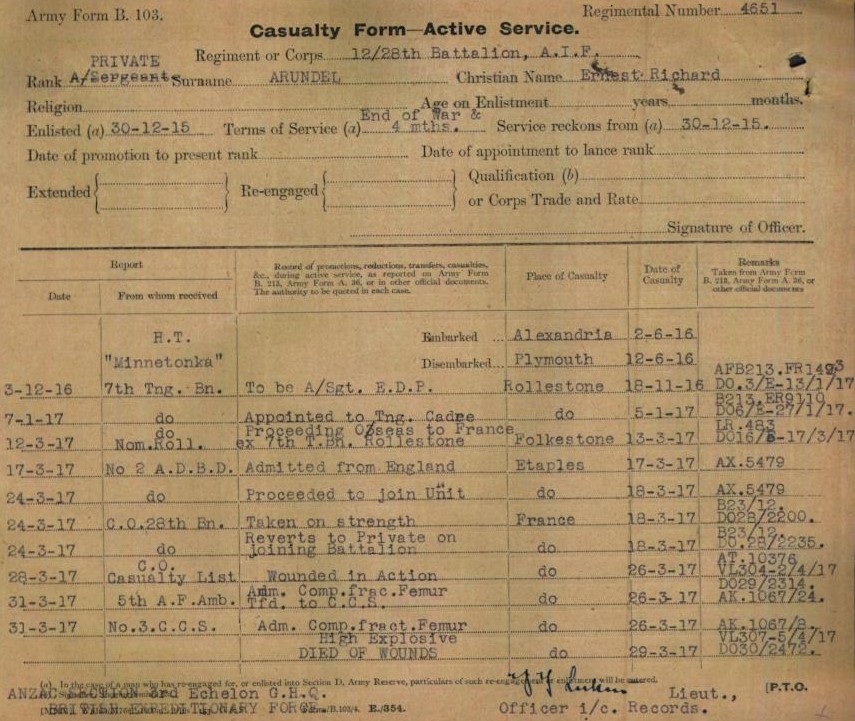 During the course of the research contact was made with a great niece and a great nephew of Ernest. They were kind enough to supply some additional information. For example the family still have the plaque and accompanying scroll sent to families of the deceased, together with the photographs of Ernest in uniform reproduced in this article. In at least one he has sergeant's stripes on his uniform and his army records do show that he held this rank on a temporary basis though at the time of his death he is recorded as being a private.
Interestingly, Ernest's brother Sydney Robert Arundell also saw service during WW1. He joined the Middlesex Regiment on 5th Sept 1914 and served until 23.4.1919. As a Lewis gunner he saw service in Mesopotamia and was mentioned in dispatches. Happily he survived the conflict, went on to marry and have a family of his own – indeed he even named his elder son 'Ernest'. So though nearly a century has elapsed since his untimely death, Private 4651 Ernest Richard Arundell has not been forgotten by his family or indeed by the community in which he lived much of his life.