HoC - Roll of Honour - Frank Leonard Cunningham
HOME PAGE -- ROLL OF HONOUR -- CHISWICK'S MEMORIALS
-- RESEARCH EXHIBITS -- PEOPLE AND PARISH -- CONTACT US
Leslie Howard Coombs -- Philip Walpole Coverley -- Frank Leonard Cunningham -- Herman Morton Curths -- Thomas William Dodridge
Private Frank Leonard Cunningham
Northumberland Hussars Battalion, Household Cavalry and Cavalry of the Line Regiment
Frank Leonard Cunningham was born in Edinburgh on 29th May 1887, the only child of Joseph Thomas Cunningham, M. A. (Oxon), F. Z. S. and his wife Sophia Ingo, formerly Crossfield. He was baptised at St Mark's Church, Dalston, London on 31st August 1887. In the church's baptism record, his father was a zoologist and the parents abode was 6, Hoe Park Terrace, Plymouth.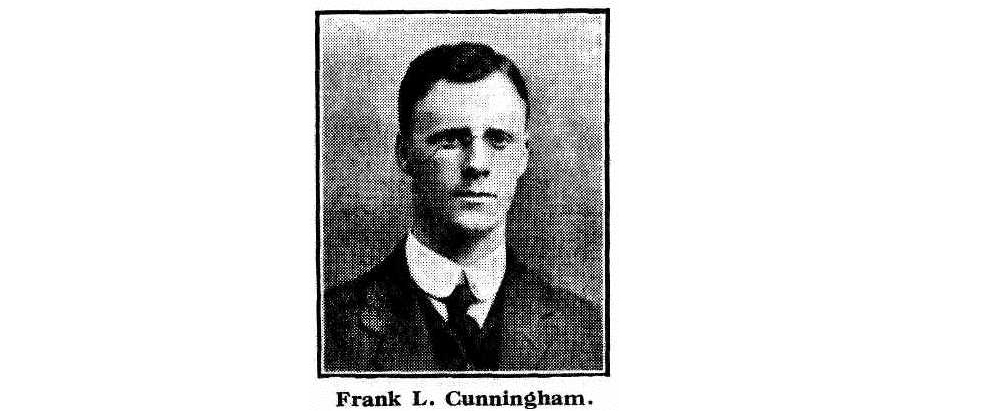 He was educated at a private school in Penzance, at Plymouth and Mannamead College, and at University College, London, where he obtained his Diploma in Mechanical Engineering in 1907.
From February 1908 to August 1910 he served his apprenticeship to Messrs. Sir W. Armstrong, Whitworth and Co., at the Elswick Works, Newcastle-on-Tyne. He was then entrusted by Mr. Alfred Moseley, C.M.G., with a mission to visit Saint Helena and prepare plans and specifications for an engineering plant on that island.
In 1911-12 he was engaged in the drawing-office of Messrs. John I. Thornycroft and Co. at Woolston, Southampton, and in 1912-13 held a post in the drawing-office of Messrs. Vickers, Ltd., at Westminster.
He then entered the service of the Vacuum Oil Co., and was appointed to a post in the Glasgow branch of that company, which he held when the War broke out, the post being kept open for him while on active service.
He joined the Northumberland Hussars Yeomanry at Newcastle on 26th January 1909, and on the outbreak of war that regiment was among the first of the Territorial units to offer for Foreign Service. It was mobilized almost immediately, and proceeded to Belgium with the Seventh Division at the beginning of October 1914. Frank Cunningham went with his regiment and served through the severe fighting in the neighbourhood of Ypres in October and November 1914.
During the great attack on the enemy's positions in the West in September 1915, an order was received to send out an officer's patrol to see how the infantry attack was progressing and Lieut Laing carried out this duty, taking with him Cunningham and three other men. When the men mounted to return all the men's horses were shot, and he and another man were wounded. Frank Cunningham who was shot in the leg then tried to reach a communication trench, but was shot through the body before he got to it.
His Corporal, Ernest Pigg stayed with him all the rest of the day, but he was not removed to a field hospital till the following night, and reached the Australian Hospital, Wimereux, near Boulogne on 29th September. He died at that hospital on 1st October 1915, in his twenty-ninth year.
Lieut (later Captain) Laing wrote: "I cannot speak too highly of his courage. What naturally grieves me, but what I tell you to show my opinion of your son is that I knew our ride would be a dangerous one, and selected the four men that I thought would be most game to come and be most useful." Corporal Pigg "He was a comrade and a soldier, a backbone to his section. His good ways and kindness in associating with his comrades set an example to the troop which will live with them to the end."
After his death, his father edited and published a book titled "From Ypres to Loos with the Northumberland Hussars; diary and letters of the late Frank Leonard Cunningham while on active service in Belgium and France, 1914-1915." A copy of this book is held in the Glasgow University Library and can be viewed here.
Frank L Cunningham was elected a Graduate of the Institution of Mechanical Engineers in 1907, and was part author of a Paper on the Endurance of Metals, published in the Proceedings in December 1911.
In the 1911 census records, Trooper Cunningham was living with his parents at 60 Milton Road, Highgate, London, however within a few years his parents had moved to Chiswick, West London. In the April 1915 and 1916 Local Authority Rate Books, his father 'Cunningham, JT MA' was living at 63 St Mary's Grove, in the parish of St Michael's Church. In the April 1917 rate book, he had moved to 35 Wavenden Avenue, a short distance from St Michael's.
The Kelly's Directory for 1919 has 'Cunningham, Joseph T MA, FZS' living at 35 Wavenden Avenue. This continued until 1935. There is no record at that address in 1936 and for 1937 and 1938, Mrs Cunningham is listed as the principle occupant of that property.
Joseph Thomas Cunningham appears to have died on 5th June 1935 at Turnham Green Bowling Club, Dukes Meadow, Chiswick and Sophia I Cunningham in 1940 in Essex.
Notes:
The book titled "From Ypres to Loos with the Northumberland Hussars; diary and letters of the late Frank Leonard Cunningham while on active service in Belgium and France, 1914-1915" was published by his academic father, Joseph Cunningham, FZS. Only one copy is known to exist and this is at the University of Glasgow Library.

Frank Cunningham was an only child has no known close relatives. Contact has been with a second cousin twice removed who has his name in her family tree on the Public Member Section of ancestry.co.uk. Her grandfather, Frank Cunningham's second cousin died in the 1920s age 28 when her father was a toddler. Her grandmother later remarried and her father would have been too young to remember his father or any of the family. For some reason there was no contact at all with the Clapp/Cunningham family again.