HoC - Roll of Honour - Geoffrey Damerel Gidley
HOME PAGE -- ROLL OF HONOUR -- CHISWICK'S MEMORIALS
-- RESEARCH EXHIBITS -- PEOPLE AND PARISH -- CONTACT US
Thomas William Dodridge -- Stawell William Wade Garnett -- Geoffrey Damerel Gidley -- Robert Dudley Gidley -- Horace Walter Hardy
Geoffrey Damarel Gidley
Geoffrey Damarel Gidley was born in Kensington on 9 May 1896, the son of George Gidley (1862-1935), a tailor, and Annie Maud Gidley (nee Sharp, 1862-1948). Geoffrey was baptised at St Mark's, Notting Hill on 14 June 1896, when the family's address was given as 109 Ladbroke Grove. Further details of the Gidley family are set out below.
According to the archives of Latymer Upper School, having been educated at St Stephen's National Elementary School in Shepherd's Bush, Geoffrey entered Class I of Latymer Upper School on 7 January 1906. He left Latymer on 19 May 1910, from Class iv C) and went on to a Clerkship in Barristers' Chambers.
At the time of the 1911 census, Geoffrey, then 14, was living with his family at 51 Pennard Road, Shepherd's Bush, and his occupation as Clerk – Barrister's Office.
"The History of the Third Chiswick Scout Group" (J.C. Newton, 1981) recorded that on 5 July 1913 the 3rd Chiswick Troop beat St Luke's Chelsea at cricket by 130 to 118, as part of which Scout G. Gidley took 6 wickets for a low number of runs.
The parish magazine records that Geoffrey Damarel Gidley enlisted with Queen Victoria's Rifles (QVR) in September 1914 (The Chiswick Times edition of 18 September 1914 includes his name in its weekly update of local men who had joined up, under the heading "Chiswick's Brave Sons"), and soon rose to the rank of Corporal. He entered France on 17 August 1915, but owing to his skill in training men was kept at base until about a week before his death. In fact he had only been in the firing line a few hours when a shell struck the rough dug-out in which he was, injuring him very severely. He was able to be moved to a clearing station, but died of his wounds the same day – 30 May 1916.
"Pro Patria Mori" records that Sgt A.J. Wilson of Queen Victoria's Rifles won a military medal for his work of the night of 30/31st May, when out with a covering party which was heavily shelled and suffered a number of casualties. As these occurred he so distributed the men that that they still covered all the men at work; he also brought in all his casualties. It was owing to the example he showed that the covering parties carried on, thus allowing the working parties to continue their important work. The casualties suffered that night brought the total QVR casualties since 26 May 1916 to 14 killed and 59 wounded of whom nearly half had occurred on Tuesday afternoon and evening. Under the heavy bombardment brought down on the QVR, five men had been killed, another two died of wounds and 17 were wounded. QVR later went on to take part in the attack on Gommecourt on 1 July 1916, in the course of which Herman Curths – also an old boy of Latymer Upper, and on our Roll of Honour – lost his life.
The Chiswick Times from 9 June 1916 contains an account of the memorial service for Geoffrey:
"Geoffrey Gidley was a very keen scout, and was the first member of a diocesan troop in London to gain the coveted "King's Scout" badge. His early days as a scout were spent in St Stephen's, Shepherd Bush Troop, from which he transferred to the 3rd Chiswick when coming to live in Chiswick.
A memorial services was held at St Michael's, Sutton Court, on Wednesday evening, Holy Communion having been held in the early morning, when the 3rd Chiswick Troop and a contingent from St Stephen's, Shepherd's Bush, attended. The 1st, 2nd, 4th and 5th Chiswick Troops were represented by their patrol leaders. Mr T. Edwards Forster, J.P. (president of the Chiswick Scouts' Association), District Scoutmaster and Commissioner H. S. Martin, and Scoutmasters H. Garlick, P.J. Lupton, F. Bransdon and L. Wilkinson were also present. The hymns "Nearer, my God, to thee" and "Fight the Good Fight" were sung, and the choir gave a really beautiful rendering of "O rest in the Lord". The Rev L. McNeill Shelford conducted the service and gave an address. A colour party was furnished by the 3rd Chiswick Troop, consisting of Patrol Leader F. Robinson and Scouts Goffin and Simpson. At the conclusion of the service the Dead March in Saul was played, followed by the first verse of the National Anthem.
Mr. and Mrs Gidley, who live in Burnaby Gardens, have reason to be proud of the record set up by their five sons. In addition to the one just lost, their married son, George William, has just joined as a private in the A.S.C. Julian Norman is a second-lieutenant in the R.F.A, and Robert Dudley is a cadet in the Queen Victoria Rifles. Their remaining son is a member of a volunteer corps in Burma. Mr and Mrs Gidley's daughters have been married during the past twelve months in St Michael's to Lance-corporal F. L. Edgar, Queen's Westminsters, and Sergeant W.J.S Cook, London Scottish, both of whom are in France."
Geoffrey Damarel Gidley is buried in Doullens Communal Cemetery Extension No 1.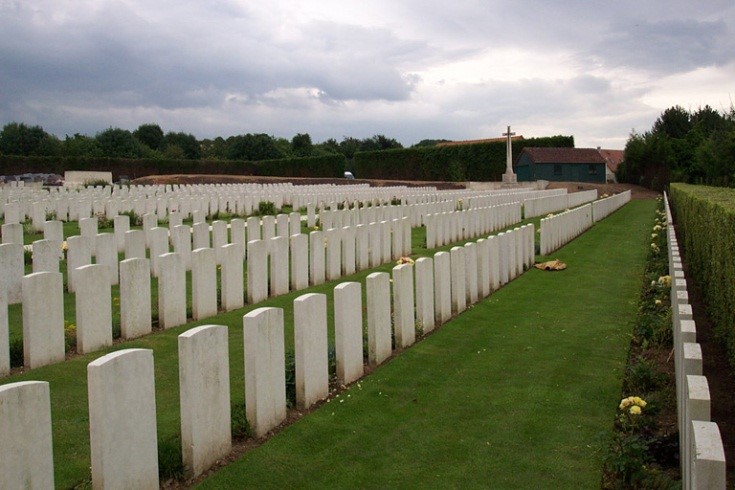 (Photo: www.cwgc.org)
The Gidley family
George Gidley was born in Chagford, Devon, in 1862, and married Annie Maud Sharp (born in Yarmouth, Norfolk in 1862) on 14 September 1885 at St Nicholas Church, Yarmouth, Norfolk. By 1891 the family were living at 109 Ladbroke Grove, the address where George carried on business as a tailor in partnership with his two brothers, William Henry Creed Gidley and Gustavus Gidley. Gustavus left the business on 4 November 1893, and William Henry Creed Gidley left the partnership, then trading from 101 and 103 Ladbroke Grove, on 8 April 1907. George and Annie Maud Gidley had seven children in total, two of whom died in infancy (Maud Elizabeth in 1890 and Ralph Henry in 1895). The family moved to 10 Burnaby Gardens some time between 1911 and 1913, and George Gidley was a sidesman at St Michael's Sutton Court.
As referred to below, George and Annie Maud Gidley seem to have left Chiswick shortly after the War. Their address on the CWGC register for Geoffrey is given as "Katha", Colbert Avenue, Thorpe Bay, Essex, but are listed as living in Lingfield, Surrey, with their son Julian in 1919.
George Gidley died aged 73 on 13 October 1935 in Staines; Annie Maud Gidley's death (aged 87) was recorded in 1948 in the Middlesex South Registration District
Their other children (oldest first), were:
George William Gidley (1886 – 1945)
George William Gidley was born on 27 September 1886 in Great Yarmouth. George was admitted to Oxford Gardens School on 7 September 1891 (the same day as his brother Julian), and left for "boy's school" in 1894. Married Florence Minnie Hayter on 9 June 1910 at St Stephen, Shepherd's Bush, and had one son, Geoffrey Norman Gidley (born 28 June 1914). At the time of the 1911 census, George and Florence were living at 3 Balliol Road, N. Kensington, and George's occupation was given as a tailor. George Gidley served as private in the Army Service Corps during the War. Florence Gidley died in 1939, and George married Priscilla Clara Glinsman in 1939. George Gidley died at King George Hospital, Ilford, Essex, on 20 April 1945.
George's son, Geoffrey Norman, married Kate Emily Longman in 1940, but they had no children, and died within a few months of each other in 2000.
Julian Norman Gidley (1888-1967)
Julian Norman Gidley was born on 13 January 1888. He was admitted to Oxford Gardens School with his elder brother George on 7 September 1891 (aged just 3), and later attended Latymer Upper School. At the time of the 1911 census, Julian was living with the family in Pennard Road, Shepherd's Bush, with his occupation given as Clerk – East India Merchant.
It appears Julian left for Burma shortly after this, as he is recorded landing in Liverpool on 8 December 1915, having sailed from Rangoon, Burma. His occupation is given as forester, and according to his service records, he had spent 5 years as an assistant forest manager in Burma in the service of Steel Brothers & Company.
Julian enlisted in the "B" Reserve Brigade of the Royal Horse Artillery on 20 January 1916. He applied for a commission and was appointed 2nd Lieut in the Royal Field Artillery on 26 May 1916 and Lieut. on 26 November 1917.
The next record in Julian's service record is the report of the proceedings of a medical board held at Caxton Hall on 21 December 1916. The date of commencement of leave for the present disability – which was stated to be "furunculosis and lumbar myalgia" (boils and back pain) - was 24 November 1916. Julian was initially declared unfit for 2 months, but his service records then show Julian being signed off for successive periods of one to two months, until he is finally declared permanently unfit for duty on 8 August 1918. There is no more detail about Julian's condition in the service records, but the letter from the War Office notifying the Scottish Command that Lieut J.N.Gidley has been placed on the retired list includes the information that Lieut Gidley's current address is Craiglockhart War Hospital.
Craiglockhart Hydropathic was requisitioned by the British army in October 1916 as a hospital for officers suffering from "neurasthenia" or shell-shock. The admissions register for Craiglockhart shows that Lt J.N.Gidley, then aged 30, was admitted with neurasthenia on 17 April 1918, having done 2 ¼ years of service, 5 months of which had been in the field. He appears to have been admitted from the Prince of Wales Hospital for Officers, Marylebone (now the Landmark Hotel). Julian was transferred to Bowhill (a satellite hospital to Craiglockhart) on 17 June 1918, then re-admitted to Craiglockhart on 7 July 1918, before being declared medically unfit for duty on 8 August 1918.
Craiglockhart is best known as the hospital where Wilfred Owen and Siegfried Sassoon met. One of its chief medical officers, Dr Brock believed in the importance of social activity, leading to the establishment of the hospital magazine, The Hydra, which Wilfred Owen edited for a time. The Hydra included not just poems and short stories, but accounts of the various clubs that were established at the hospital, and entertainments that were arranged by and for the patients.
The edition of The Hydra from July 1918 records a concert given by the Pierrot Troupe on 1 June, including the report that "ballads were sung by Mr J.N. Gidley, who gave "Homing" and the ever popular "Melisande in the wood".."
Julian appears to have lived in Lingfield, Surrey with his parents immediately after the War – their address in the electoral rolls for 1919 to 1921 is given as the The Town, Lingfield. George, Annie Maud and Julian later moved to various different addresses in Staines in the 1920s and 1930s.
On 24 April 1941, Julian Gidley, then aged 53, married Florence Emma Witheridge Brown, aged 45, at All Saints Roman Catholic Church, Oxted. His occupation was given as an assistant manager, shipping company. His mother, Annie Maud Gidley, was a witness at the wedding.
Julian died in 1967, aged 79.
Hilda Muriel Gidley (1891 – 1981)
Hilda Muriel Gidley was born on 4 March 1891 and baptised on 12 April 1891 at St Mark, Notting Hill. She was admitted to Oxford Gardens School on 19 November 1894 and according to the school register left on 12 April 1897 (although this seems to conflict with the records of St Stephen's Parochial School which show Hilda being admitted on 5 April 1897 (the same day as her sister Constance)); Hilda left the school on 1 March 1899.
At the time of the 1911 census, she was living with the family at Pennard Road, and her occupation was given as Clerk – Insurance.
In 1915, Hilda married Frederick Leonard Edgar (1887-1968) a private in the 16th London Regiment (Queen's Westminsters).
The electoral rolls for 1936 and 1949 show Frederick .and Hilda Edgar living at Avondale Avenue, Staines. Frederick died in Surrey in 1968, aged 81, and Hilda died in 1981 in Surrey, aged 90. No records of any children of Frederick and Hilda Edgar have been found.
Constance Annie Gidley (1892- 1944)
Constance Annie Gidley was born on 18 October 1892 and baptised on 29 November 1892 at St Mark, Notting Hill. She was admitted to Oxford Gardens School on 9 November 1896 and left on 29 January 1897; she then joined St Stephen's Parochial School on 5 April 1897 and left on 1 March 1900.
She was married on 27 January 1916 at St Michael's, Sutton Court, to William James Stanhope Cook, a Corporal in the London Scottish (also known as the 14th London Regiment). Rev Shelford refers to their wedding in his letter of 28 January 1816 in the parish magazine: "On Thursday 27th I had the pleasure of marrying Miss Constance Gidley, of 10 Burnaby Gardens, and of "Oddities" fame, to Corporal W.J.S Cook of the London Scottish. Mr Cook was home on seven days leave…Mr and Mrs Gidley have now the honour of having three sons and two sons-in-law in His Majesty's Forces."
William's service records show that he was wounded, but remained at duty, on 1 December 1915. He appears to have been transferred to the Machine Gun Corps on 30 June 1917, and served in France 18 March 1915 to 18 January 1918. He was promoted to Lance Sgt in the 168th Company of the Machine Gun Corp and later (in October 1918) transferred to 3rd Battalion West Yorkshire Regiment and appointed to a temporary commission as a 2nd Lieutenant
William and Constance appear to have had a daughter, Sheila C Cook, in 1920, but no further information regarding Sheila has been found.
The electoral rolls for 1926 show William and Constance living at 4, Fairfield Avenue, Staines, and by 1937 they were living at 21 Hillside Gardens, Beddington.
Constance died of cancer at Acton Hospital on 17 December 1944, aged 52. William J S Cook died in Worthing in 1963, aged 71.
Douglas John Gidley (1894 – 1920)
Douglas John Gidley was born on 1 March 1894 and baptised on 8 April 1894 at St. Mark, Notting Hill. He was admitted to St Stephen's Parochial School on 31 May 1897. At the time of the 1911 census he was living with the family in Pennard Road, Shepherd's Bush, and his occupation was listed as an Improver – Electrical Engineer.
Douglas sailed for Rangoon, Burma from Liverpool on 15 October 1914, with his occupation being given as a merchant. According to the report of The Chiswick Times above, Douglas served in the volunteer corps in Burma, and was later cited in the Gazette as being admitted to the rank of 2nd Lieut in the Indian Army Reserve of Officers on 30 August 1918. Douglas survived the war, but died in Rangoon Hospital in 1920, aged 26.
An account of the life of the youngest brother, Robert Dudley Gidley (1900 – 1917) is given separately
SOURCES
With thanks to:
• Malcolm Smith at the archives of Latymer Upper School for the information regarding Geoffrey Gidley's time there
• Sue Light (www.scarletfinders.co.uk) for providing the copy of the A&D register for Julian Gidley at Craiglockhart
• Jan Holland and Frances for the information about the later Gidley family
"The History of the Third Chiswick Scout Group" (J.C. Newton, 1981) – held at Chiswick Library
"Pro Patria Mori: The 56th (1st London) Division at Gommecourt" by Alan MacDonald
Service records for Julian Norman Gidley (WO 339/61309) and William James Stanhope Cook (WO 363)
The Hydra: First World War Poetry Digital Archive (www.oucs.ox.ac.uk/ww1lit/collections/document/3141?REC=6)