HoC - Roll of Honour - Herman Morton Curths
HOME PAGE -- ROLL OF HONOUR -- CHISWICK'S MEMORIALS
-- RESEARCH EXHIBITS -- PEOPLE AND PARISH -- CONTACT US
Philip Walpole Coverley -- Frank Leonard Cunningham -- Herman Morton Curths -- Thomas William Dodridge -- Stawell William Wade Garnett
Rifleman Herman Morton Curths
9th (County of London) Battalion, (aka Queen Victoria's Rifles)
Herman Morton Valentin Curths, was born on April 28th 1895 and baptised at St Mary's Church, Stamford Brook on 16th June that year. He was the son of Joachim Valentin Curths, a Master Mariner, and his wife Mary Ellen formerly Morton. By early 1901, the family had moved to 43, St Mary's Grove, Chiswick. A sister, Ellen Harmer had been born in the autumn of 1896 and a further sister, Marjorie Christina in the spring of 1902.
Joachim Curths was born in Sunderland, Durham in 1849. His father, also Joachim, was born in Hamburg, Germany around 1813, and lived in England after 1841 when he married Ellen Mary Bell at St. Michael & All Angels Church, Bishopwearmouth, Sunderland, Durham.
Herman entered Latymer Upper School from Gunnersbury Private School, Burnaby Gardens on April 24th 1906, being placed then in class ii, and left, from class vi b, on April 12th 1911. He sat the Cambridge Local Examinations in July 1910 and 'satisfied the Examiners'- that is to say he passed the exams. He went on to a Clerkship with the Caledonian Insurance Company.
The Latymer Upper School magazine, the 'Latymerian', of October 1914 records that he enlisted in the 9th Battalion of the County of London Regiment. He is reported 'missing' in the war records section of the October 1916 edition of the magazine. In fact he was one of the many who fell on the dreadful first day of the Battle of the Somme, July 1st 1916. His name is listed on the School War Memorial.
The family worshipped at St Michael's and Herman is recorded in the September/October 1914 edition of the parish magazine as having signed up and was "drilling" in London having not yet left home yet. In the December edition he was reported as being in training at Crowborough. He was "at home" in the January and February editions and then reported to be "at the front" in March. In the April edition of the Parish Magazine, extracts of seven letters written home between 16th February and 12th March which signalled a route from arrival at Le Havre to camp at Rouen and on to the trenches and fighting at Neuve Chapelle were printed by kind permission of Mrs Curths.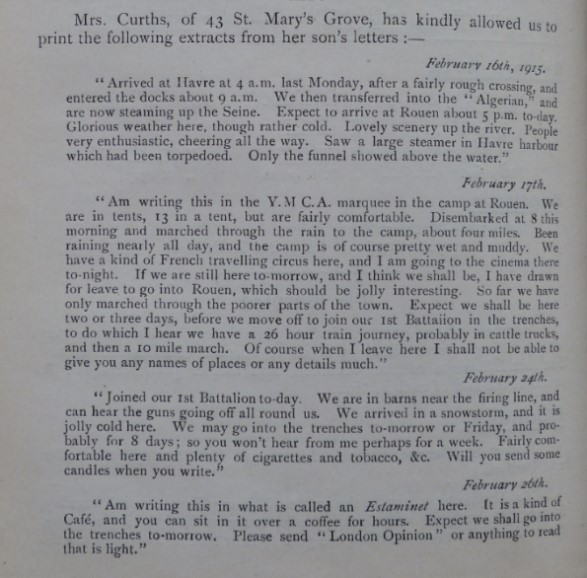 A list of the kinds of things requested by Herman were published as a guide to readers regarding what they might usefully send to combatants at the front.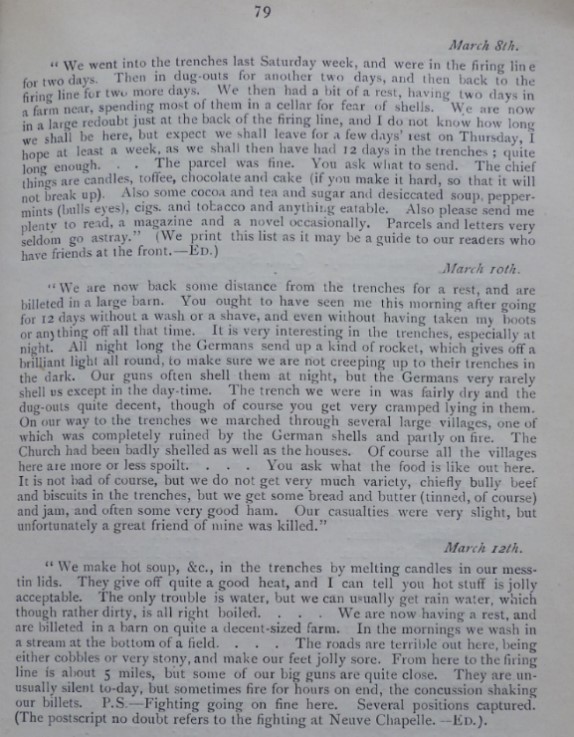 The May edition covered a further three extracts from letters written at the end of April and early May. These were more about combat, with specific reference to his Battalion holding Hill 60, south of Ypres in Flanders for several hours early on 21st April against a German attempt to break through to Calais.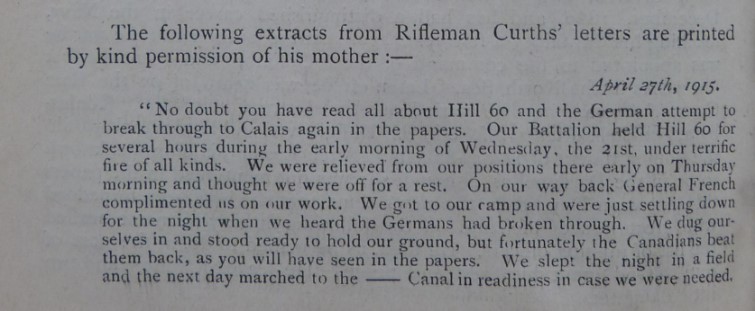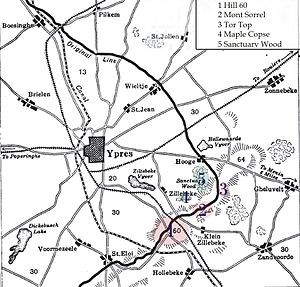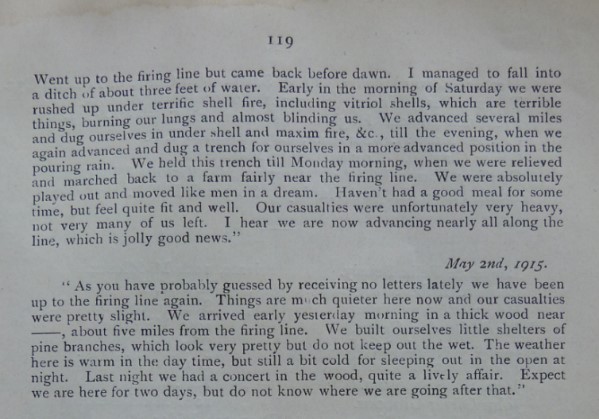 On Service records in the Parish Magazines through the remainder of 1915 and into 1916 list Herman as in action in France or Belgium until the September/October edition when he was reported as "Missing since July 1st."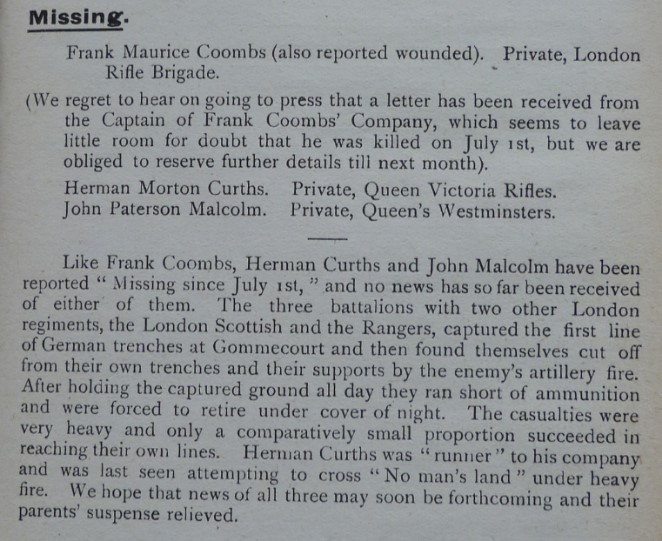 In the attack on Gommecourt on 1st July 1916 during the Battle of the Somme, Herman was part of 'B' Company of the Queen Victoria's Rifles. The two front line battalions of the 169th Brigade, the Queen Victoria's Rifles (QVR) on the right and The London Rifles on the left, each operated on a narrow front just 250 metres wide. There was only space for 'C' and 'A' QVR companies to go forward immediately and each company attached in four lines of platoons. These companies provided the first three of five waves to go over the top. 'B' Company, led by Capt. Philip Houghton, four platoons of the 169th Trench Mortar Battery and half a section of signallers made up the 5th wave.
On 30th June, The Queen Victoria's Rifles counted 27 officers and 671 men in the assaulting waves. At roll call on the 2nd July there were 11 officers and 142 men remaining – casualties of 16 officers and 529 men. Of these 544 men, 56 were known to have been killed, 295 wounded and 193 missing. It is assumed from the Official History's total of 448 other ranks casualties, that a number of men found their way back over the next day or two, but even allowing for this, the battalion had suffered 66% casualties. Of the three leading companies, 'A', 'B' and 'C', all fifteen officers were killed or wounded and only 64 men returned, many wounded.
Herman Curths remained listed as missing for almost a year and there always seemed the hope that he might be alive – perhaps a wounded prisoner in the hands of the enemy – but by June 1917 Parish Magazine "his name had been reluctantly removed from the list of the missing, and now we can only leave in in the hands of God."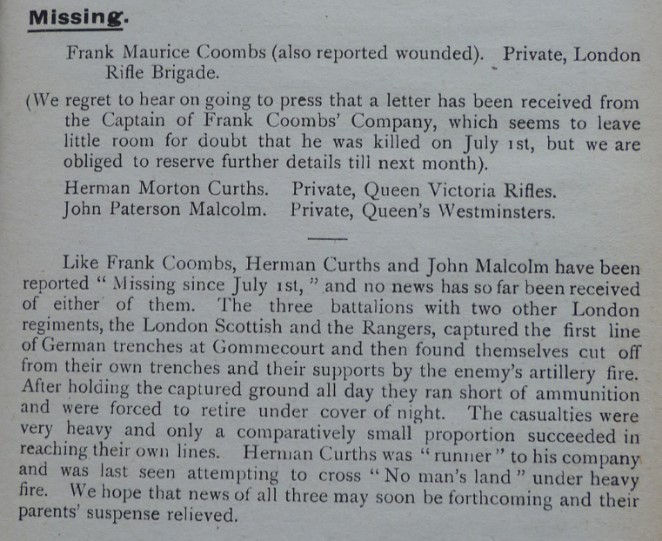 Private Herman Curths is commemorated at the Thiepval Memerial, Department de la Somme, Picardie, France.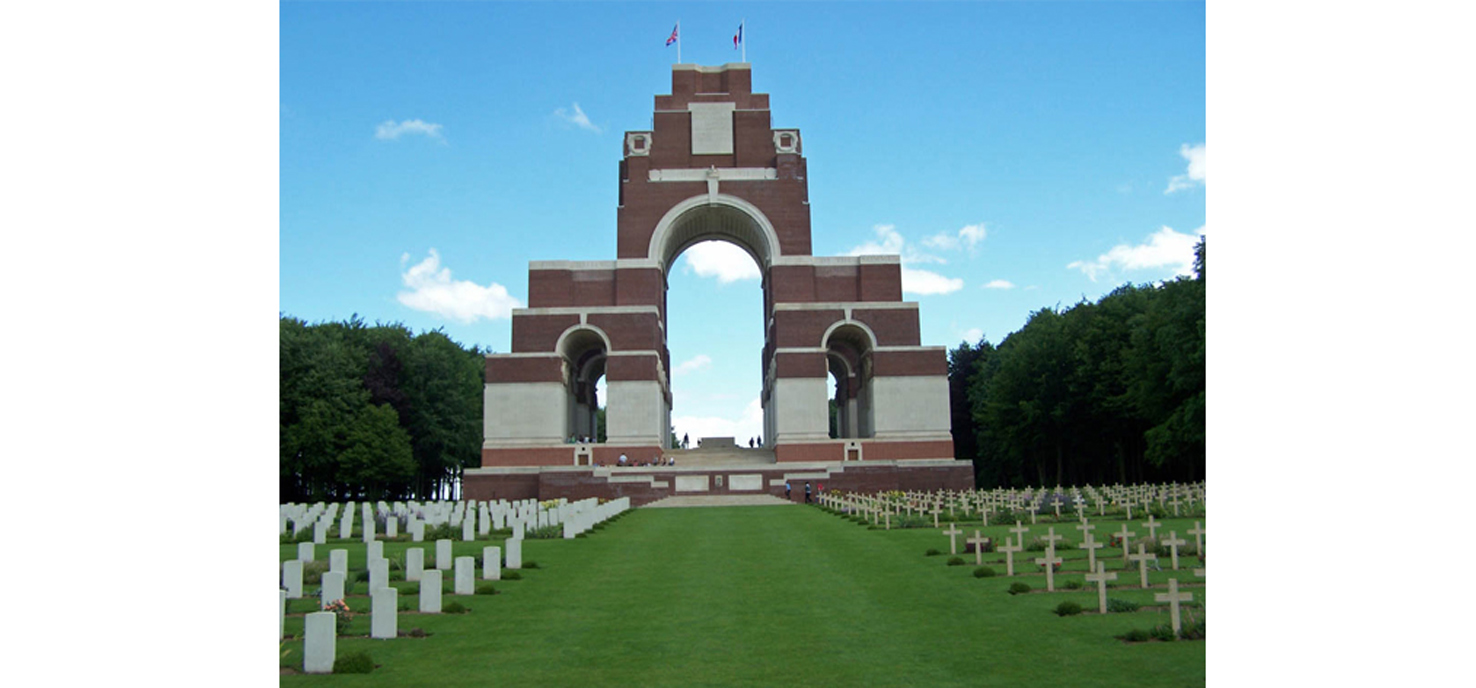 The Curths family remained at St Mary's Grove for many years. Herman's two sisters were both married at St Michael's during the 1920s and his father, Captain Joachim Valentin Curths, was remembered with affection in the Parish Magazine following his death in 1931. Mrs Mary Ellen Curths died in 1936.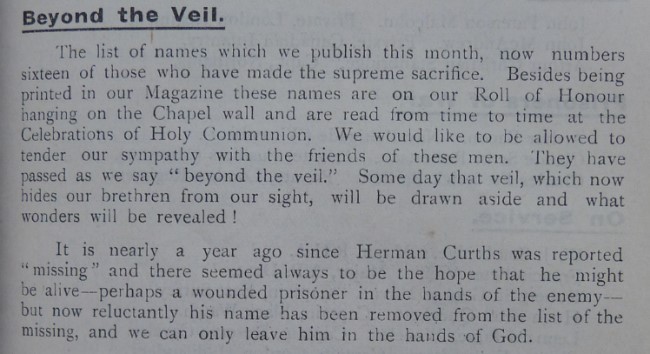 Note:
Contact has been with a great niece of Herman Curths who doesn't know very much about Herman although she has his father's master mariner certificate. He changed his name to John (formerly Joachim) Valentine Curths.