HoC - Roll of Honour - Thomas William Dodridge
HOME PAGE -- ROLL OF HONOUR -- CHISWICK'S MEMORIALS
-- RESEARCH EXHIBITS -- PEOPLE AND PARISH -- CONTACT US
Frank Leonard Cunningham -- Herman Morton Curths -- Thomas William Dodridge -- Stawell William Wade Garnett -- Geoffrey Damerel Gidley
Thomas William Dodridge
Thomas William Dodridge was born in Hereford in January 1895, the youngest child, and only son, of Francis Ellery Dodridge (1861-1944) and Mary Eva Dodridge (nee Elliott, 1858 - 1952).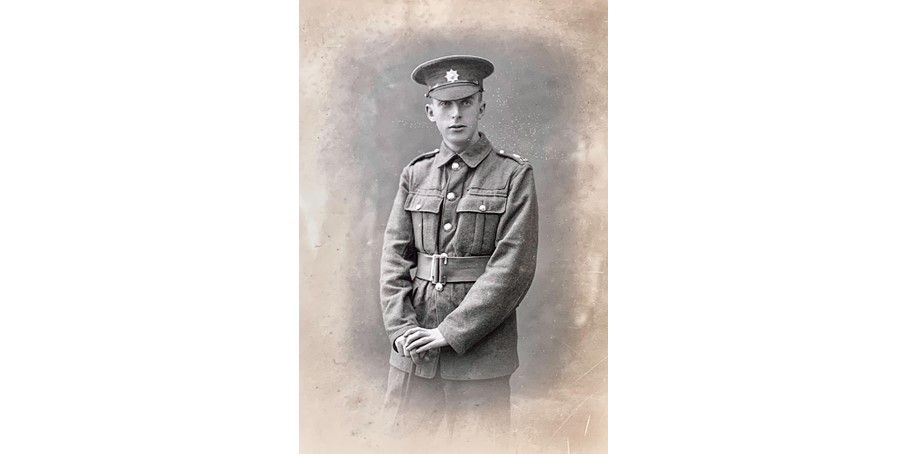 At the time of the 1911 census, the family were living at 100 Wavendon Avenue, Chiswick. Francis's occupation is given as a principal clerk with the Customs & Excise. Thomas William Dodridge, then aged 16, is described as a treasury boy clerk. His sisters were Lillian Eva Dodridge (1889 - 1966), Post Office Savings Bank 2nd class clerk; Frances Hilda Dodridge (1891-1986), and Ellaine Beatrice Dodridge (1893 - ?), student.
Francis Ellery Dodridge was a sidesman for a number of years at St. Michael's, and was elected People's Warden in 1921, a post he held until he moved to the country in 1925.
Thomas enlisted with the Coldstream Guards at Chiswick Town Hall on 2 March 1917, at the age of 22 years and 2 months. His enlistment form gives his occupation as a civil servant and states that he is 5 foot 7 ½. He was posted to Caterham on 3 March 1917, and to the 3rd Battalion Coldstream Guards on 28 December 1917.
His service record states that Pte 21813 Dodridge died "on or since 13 April 1918".
Thomas's death occurred during the defence of Hazebrouck, which was one of the battles comprised in the Battles of the Lys (7 – 29 April 1918), part of Germany's 1918 Spring Offensive. For two days (12 and 13 April 1918), the 4th Guards Brigade (comprised of the 4th battalion of Grenadier Guards, the 3rd battalion of the Coldstream Guards and the 2nd battalion of Irish Guards) blocked the German advance towards Hazebrouck, while the British 5th and Australian 1st Divisions formed up behind them. So fierce was the fighting that the Brigade suffered 80% casualties.
In his despatch of 20 July 1918, which described the fighting on the Lys, Sir Douglas Haig wrote:
"The performance of all troops engaged in this most gallant stand, and especially that of the 4th Guards Brigade, on whose front of more than 4000 yards the heaviest attack fell, is worthy of the highest praise. No more brilliant exploit has taken place since the opening of the enemy's offensive, though gallant actions have been without number."
The entry from the war diary of 3rd Coldstream Guards for 13 April 1918 reads as follows:
"During night readjustment of line ordered but not completed by dawn owing to difficulties in communication. Heavy fog at daybreak. Enemy armoured car gave trouble by driving up to K.10.d[.12.2?] and using M G [machine gun] fire on our posts. 6.30am Enemy attack developed on Centre and Left coys [companies] - successfully repulsed on Right but by aid of fog he penetrated between Left and Centre Coys and gained L'EPINETTE FM. Left Coy fell back on 4 G G [Grenadier Guards] at K.5.d. Gap of [400'?] at this moment between Left Coy and DCLI [Duke of Cornwall Light Infantry] just S E of ARREWAGE which No 1 Coy (30 men all told) attempted to fill. Nos 2 & 3 Coys left with flanks exposed & enemy working round them. These Coys held on until surrounded on 3 sides then attempted to fight their way back. Very few succeeded. Meanwhile Left Coy heavily attacked by enemy at LE CORNET PERDU. This attack however was heavily repulsed. 2.0 pm Brigade front reported to be broken 12th KOYLI [King's Own Yorkshire Light Infantry] having been forced to retire & enemy having penetrated our line to the left of 4 G G the latter were then completely cut off. Our No 4 Coy being in same trench as 4th G G were completely cut off. Bn HQ now moved to FM at CAUDESCURE and this line was then re-established to new parallel with and E of the FM BIEULIEU - ARREWAGE Rd. At dusk remnants of Battalion (about 40 men) collected and held [E&S] [?] of orchards at extreme SE of ARREWAGE. Quiet night, [rations?] & ammunition [supplies?] brought up.
Casualties for day: Missing Capt Whittaker, Lt Rowsell, Capt Elwes, 2nd Lt Carr, 2nd Lt Millar ; 2nd Lt Leadbitter; 2nd Lt Abrahams; 2nd Lt Ashby. O Ranks [other ranks] K in A 17, w [wounded] 84, M [missing] 259."
Of the officers listed as missing in the diary entry, all but one (2nd Lt A.C.L. Abrahams, who was killed and is commemorated on the Ploegsteert memorial) were captured by the Germans and held as prisoners of war, being repatriated between October and December 1918. We do not know what happened to Thomas William Dodridge – he was moved from the "On Service" list in the Parish Magazine to the list of Missing in the July and August 1918 edition. This uncertainty is reflected in the inscription on the memorial window to Thomas in St. Michael's: "missing after action 13 April 1918".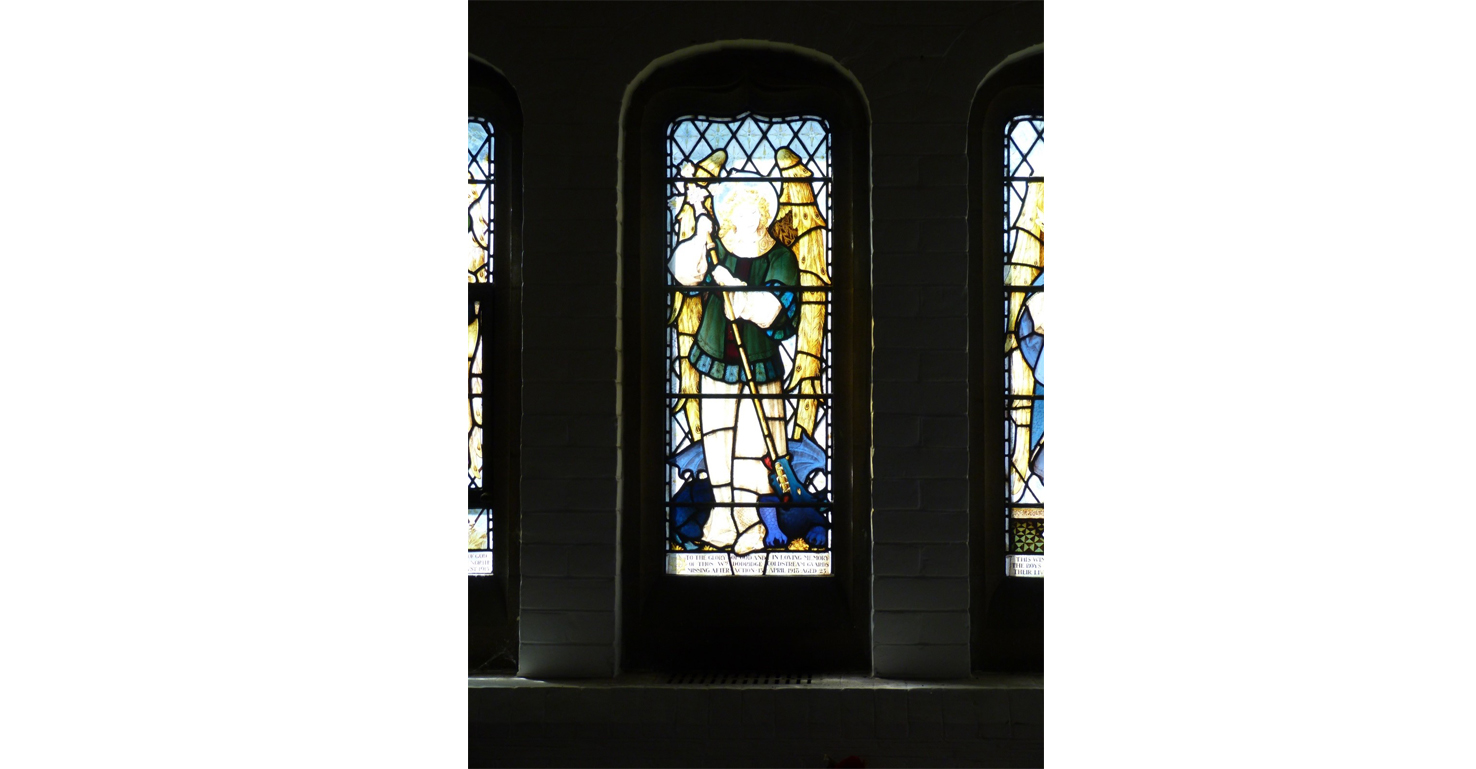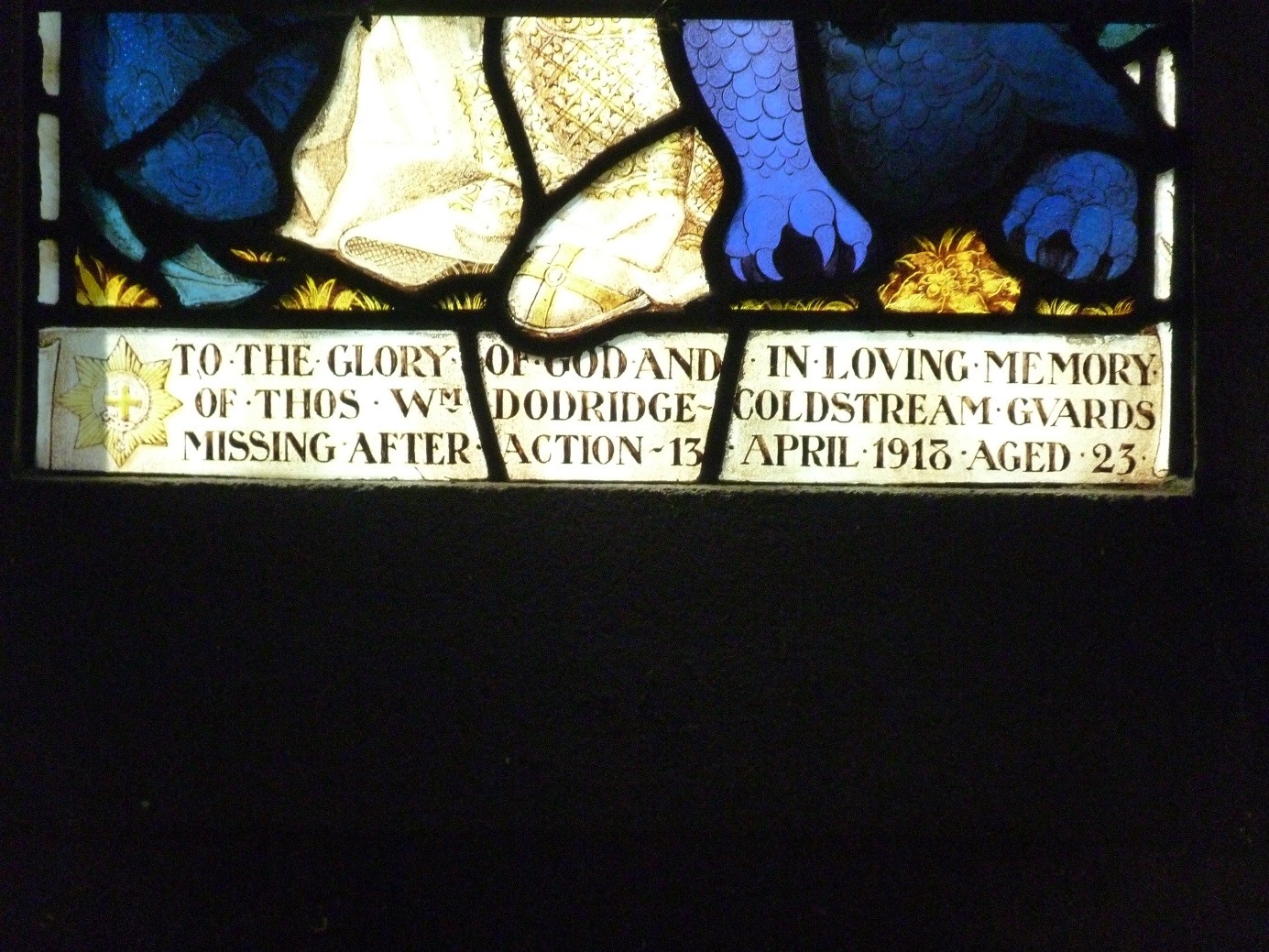 Thomas William Dodridge is commemorated on the Ploegsteert Memorial, Belgium.
The address given for his parents on the CWGC website is Water Hall, Kettlebaston, Ipswich. It appears that neither Lillian nor Ellaine married; but there is a record of Frances Hilda marrying John O.E.L Stubley (1868-1969) in Suffolk in 1927, and of their two children: Owen Colin F Stubley (1928 – 1982) and Lilian M Stubley (b 1929).
Francis Ellery Dodridge of Water Hall, Kettlebaston, died on 20 March 1944; and Mary Eva Dodrige died on 23 February 1952.
SOURCES
Borastan, J – Sir Douglas Haig's Despatches, p227 (quoted in thesis – see below)
"The Battles of the Lys" – M.Phil thesis by Geoffrey Blades, King's College, London (via www.nickpowley.com)
British Officers Taken Prisoner of War Aug.1914 - Nov.1918. Uckfield, East Sussex: The Naval & Military Press
War diary of 3rd battalion Coldstream Guards (TNA, WO 395/1226)
Pte Dodridge's service records courtesy of the Coldstream Guards archive.
Photographs courtesy of John Adkin (for the Stubley Estate) and Steve Newbold.