HoC - Roll of Honour - Tristram William Jordain Wilson
HOME PAGE -- ROLL OF HONOUR -- CHISWICK'S MEMORIALS
-- RESEARCH EXHIBITS -- PEOPLE AND PARISH -- CONTACT US
Stanley Northcote Walter -- Howell Whitehead Williams -- Tristram William Jordain Wilson
2nd Lieut Tristram William Jourdain Wilson
11th Royal Warwickshire Regiment 1889 – 1917
Son of William Wilson, of The Lindens, Duffield Road, Darley Abbey, Derby, and of Caroline Martha Wilson (nee Jordan), William Jordan Wilson was born at the Lindens, on 4th November 1889. He had two sisters, Dorothy Caroline Wilson who was born in Normanton, Derby on 22nd April 1891 and Margaret Mary Wilson whose age is listed as 18 in 1911 was born in Darley Abbey. Caroline Martha Jordan was born in Warnborough, Wiltshire, in 1853 and in 1881 was living in Bath with her mother. She married William Wilson in 1888.
William attended Derby School (now Derby Grammar School) from January 1900 to 1906 and the school register for 1900 lists the family home as being the Lindens. His father was a brush manufacturer, as was his father before him, and judging by the 1901 census, Duffield Road as a reasonably affluent middle class road, in the Derby suburbs, with most heads of households listed as Employers. In the 1901 census William and his family were living in No1 the Lindens, with one servant, and Brother George (b1850), also a brush manufacturer – presumably in partnership with William - and Sister Hannah (b abt 1837) were living in No2 the Lindens. George and Hannah were still living there in 1911.
William joined the School Officer Training Corps, serving in the 'Junior Corps' for 3 years and then the 'Senior Corps' for 6 months and clearly took an active part in school life. He was clearly an able linguist winning prizes in both English and German in 1904 and 1905. He was also elected as secretary of the Debating Society and the Derbeian describes his participation in the Autumn debate on 30th September 1905 thus ""W.J. Wilson spoke with whole-hearted admiration of Russia and things Russian and declared that all correspondents had united in praising General Kuropatkin and the Russian Army. He raised the Yellow Peril cry and said that Japan wanted to lead all Asia against the Europeans"
In the Derbeian school magazine obituary, he was described as "Endowed with a keen and active intelligence and having an insatiable love of reading, his School activities were chiefly literary. He contributed excellent articles to the Derbeian and was one of the pillars of the Debating Society, his lively fancy and love of the paradoxical leading to many startling and unusual lines of argument and equally startling conclusions.
Of good ability and kindly nature, a loyal Derbeian, he will long be remembered with affection by those of his time."
Sadly William Snr died at the age of 61 on March 11th 1905 after a few weeks illness. From the newspaper notices it is clear that he was a well respected and prominent member of the Derby community.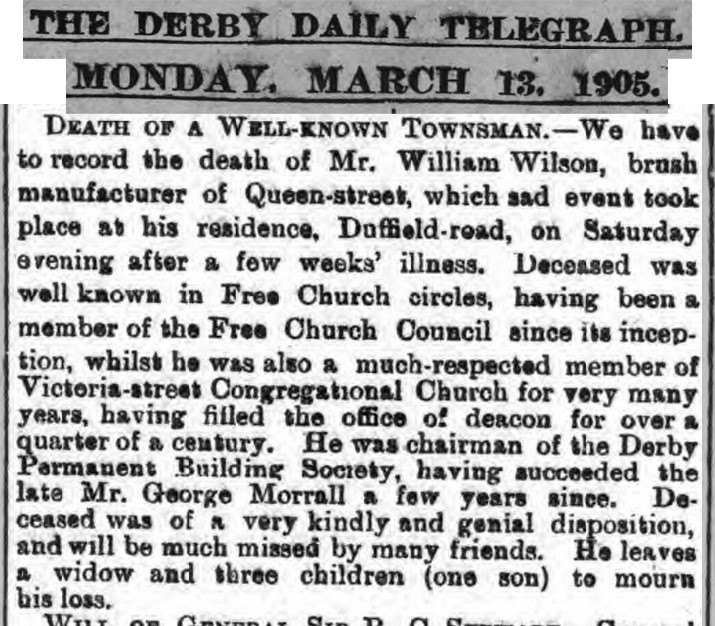 Serving as a Deacon at the Victoria Street Congregational Church and president of the Derby Sunday School Union. This all builds a picture of very respectable middle class Victorian family who clearly had close ties with the extended family, most of whom appear to have continued to live in the Derby area.
On leaving School in 1906 William trained as a journalist at the Oxford Chronicle, living with a family in Oxford according to the 1911 census - which now lists him as Tristram William Jourdain Wilson, although it is not known why, or at what point, he changed his name. In the 1911 census his mother, Caroline, was living in Chiswick, at 13 Ellesmere Road, with both Dorothy and Margaret, now aged 19 and 18 who were both working as clerks in the Civil Service.
By the outbreak of war he was on the Editorial staff of the Birmingham Daily Mail. He joined the Birmingham University Senior Officer Training Corps, in which he held the rank of Corporal**, and on the record of service in the corps his General efficiency is rated "very good" and he is qualified in "musketry" as well as "passed Semaphore Exam Transmitting and Receiving". Under special remarks he is described as "Reliable and conscientious and should make a good officer, but is afflicted by a slight impediment of Speech".
** his obituary in the Derbeian states that he rose to the rank of Sgt Major, but his applications for a commission state that he was a Corporal.
Tristram received his call up papers in 1915 and presented himself at the recruiting office on 10th December, joining the 17th Battalion, Royal Warwickshire Regiment as a private. His Attestation 1915 lists his address as being 78 Eastwood Road, Cannon Hill, Birmingham (pictured below), just round the corner from Edgbaston Cricket Ground, and lists his occupation as journalist and declares his age to be 28 years, 2 months, although it is more likely that he was 26 at the time. His service record states that he joined the Army reserve on 10th December and no date is given in the "Mobilised" column, so it is assumed that he was not sent to the front at this time.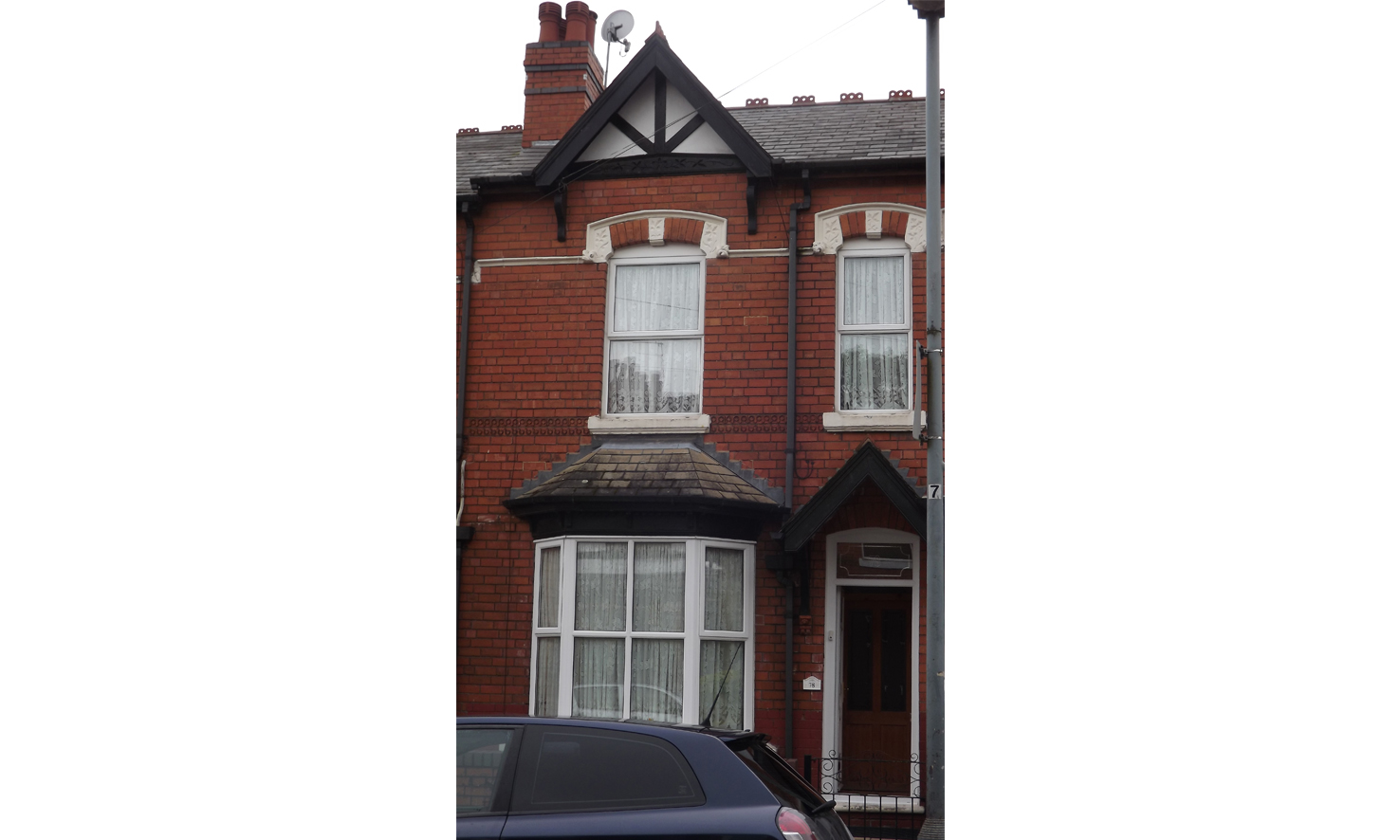 On 13th December, he filled out an application for a commission, stating that he was presently serving with the Birmingham University OTC, and giving his date of birth as 4th Nov 1886. This has been corrected with a blue pencil to read 1887 and the figure 29, again in blue pencil, written beside it. For some reason the application was not processed any further.
He applied a second time for a commission on 17th April 1916, listing his address as that of his Mother, in Chiswick, and this time giving his year of birth as 1888 and on 5th September of that year he was posted to Gailes, Aberdeenshire, for training with the 10th Officer Cadet Battalion. On 18th December 1916 he was discharged from the 17th Battalion took up his commission on 19 Dec 1916 with the rank of 2nd Lt. in the 11th (Service) Battalion, the Royal Warwickshire Regiment*
*The 11th (Service) Battalion was formed at Warwick in September 1914 as part of New Army (or Kitchener's Army) and was initially attached as Army Troops to 24th Division. In April 1915 they joined the 112th Brigade, 37th Division and the regiment landed in France 30 July 1915.
1242 SUPPLEMENT TO THE LONDON GAZETTE, 3 FEBRUARY, 1917.
R.. War. R.
' Cadet Tristram William Jourdain Wilson
to be temp. 2nd Lt. (attd.). 19 Dec. 1916.
He was appointed intelligence officer to his battalion and had twice received congratulations for his work, once from the Brigadier General and again from his Divisional Commander.
The 37th Division took part in the Third Battle of Ypres from 26th September to 10th November 1917, in the Second Army under General Plumer:
Battle of Polygon Wood, 26 September - 3 October 1917
Battle of Broodseinde, 4 October 1917
Battle of Poelcapelle, 9 October 1917
First Battle of Passchendaele, 12 October 1917
Second Battle of Passchendaele, 26 October - 10 November 1917
There is no mention of Tristram by name during the front line battles, but the War Diary 11th Royal Warwickshires gives an insight into the battalion's activities during the First and Second Battles of Passchendaele and records his unfortunate death in a bombing raid on the camp on 24th November.
On 3rd October the Battalion was 'organised for Full Fighting Orders' and on the 10th October, after 5 days at the front, the casualty list was 33 killed, 75 wounded and 4 missing.
On 16th October the battalion proceeded to a camp N.E. of Ypres on the St Jean – Potise Road and from 18th to 22nd October they worked on the Ypres to Rouliers and Ypres to Zonnebeke Roads, suffering casualties from bombs dropped by day. During this time there was lots of training as well as the Brigade Band competition in which the 11th Royal Warwickires won the Drum & Fyfe competition.
On the 1st of November the company are training and on 2nd November there was an intercompany 'YOKON' competition, won by C Company, but no indication of what this competition might entail.
The 3rd of November was working parties with the Royal Engineers and on the 4th they held a Brigade Commemoration Service for those who had fallen in the preceding two months.
After more company training, on the 8th the Battalion moved to what was known as the 'MOATED GRANGE' before moving up to the front line immediately north of the Ypres-Comines canal on the 9th November to relieve the 8th Royal Gloucester Regiment. There then followed a brief description of the way that the 4 companies were rotated, with two companies on the front line, one in support and one reserve in an area called 'SPOIL BANK', as was standard practice at this time. On 13th November 'intercompany relief', the rotating of the companies, took place 'without incident' but on 14th 'due to weakness in the companies' the ¬¬¬company in reserve in 'Spoil Bank' was brought up to the support area.
On 17th November the battalion was relieved by the 13th Royal Fusiliers. 'Two men holding a post' were reported as missing, but there is no record of other casualties sustained during the 8 days at the front. The battalion returned to 'Moated Grange' where the battalion took part in working parties.
On the night of 24th November the camp at 'Moated Grange' was bombed and Tristram was killed alongside Capt Chambers and 2nd Lieut Gwynne.
The inventory of his personal possessions is quite long, and includes many items which he probably used for his intelligence work, including 1 set co-ordinate scales, 3 protractors a calendar and a dictionary. He also had a great number of personal items, and in addition to the usual tobacco related items, watch, wallet photos, letters and chequebooks etc. he had an Autograph book, 2 Badges, a charm, a menu, a fifty centime note "(souvenir)" and stamps. Documents in his service record also include a final financial adjustment in which a deduction of Fcs 47 is made for his Mess Bill and Fcs 20 for Servant's wages.
'Lieut Tristram William Jourdain Wilson died aged 28* during an air raid at Ypres, one of three officers killed in an explosion on November 24, 1917. Wilson, described by newspaper colleagues as "one of those cheerful souls who lighten the dull warp and weft of life for the rest of us," was the only journalist from the Birmingham Post staff to be killed.' – Birmingham Post
Although there is some question mark over his age as he gave several differnet dates of birth on various Military forms, and stated an age of 28 when he joined up in 1915 that didn't tie up with either year given on the various forms (1886 and 1888), the 1901 census and 1911 census would indicate that his age was 28 at the time of his death.
His mother was sent a telegram on 27th November 1917 telling her of her son's death.
His funeral was attended by all the Brigade Staff as well as Officers of his own Battalion and he was buried in Voormezeele Enclosure No 3 (Grave reference IV. A. 4.), 3 miles from Ypres. ++ see map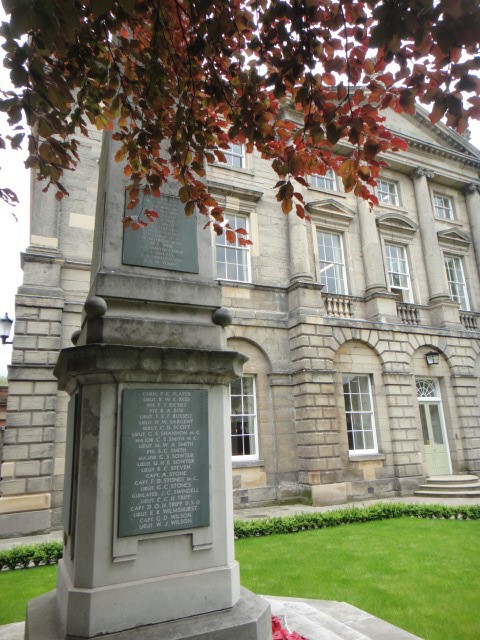 Derby School War Memorial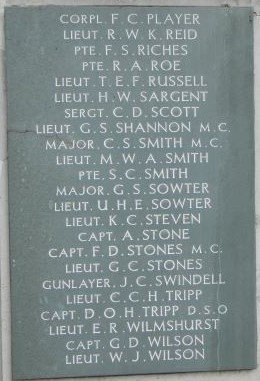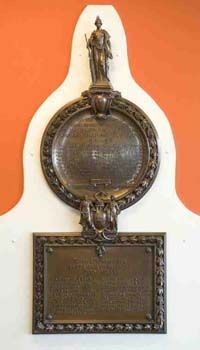 War Memorial Plaque in the Birmingham Post & Mail Media Offices Fort Dunlop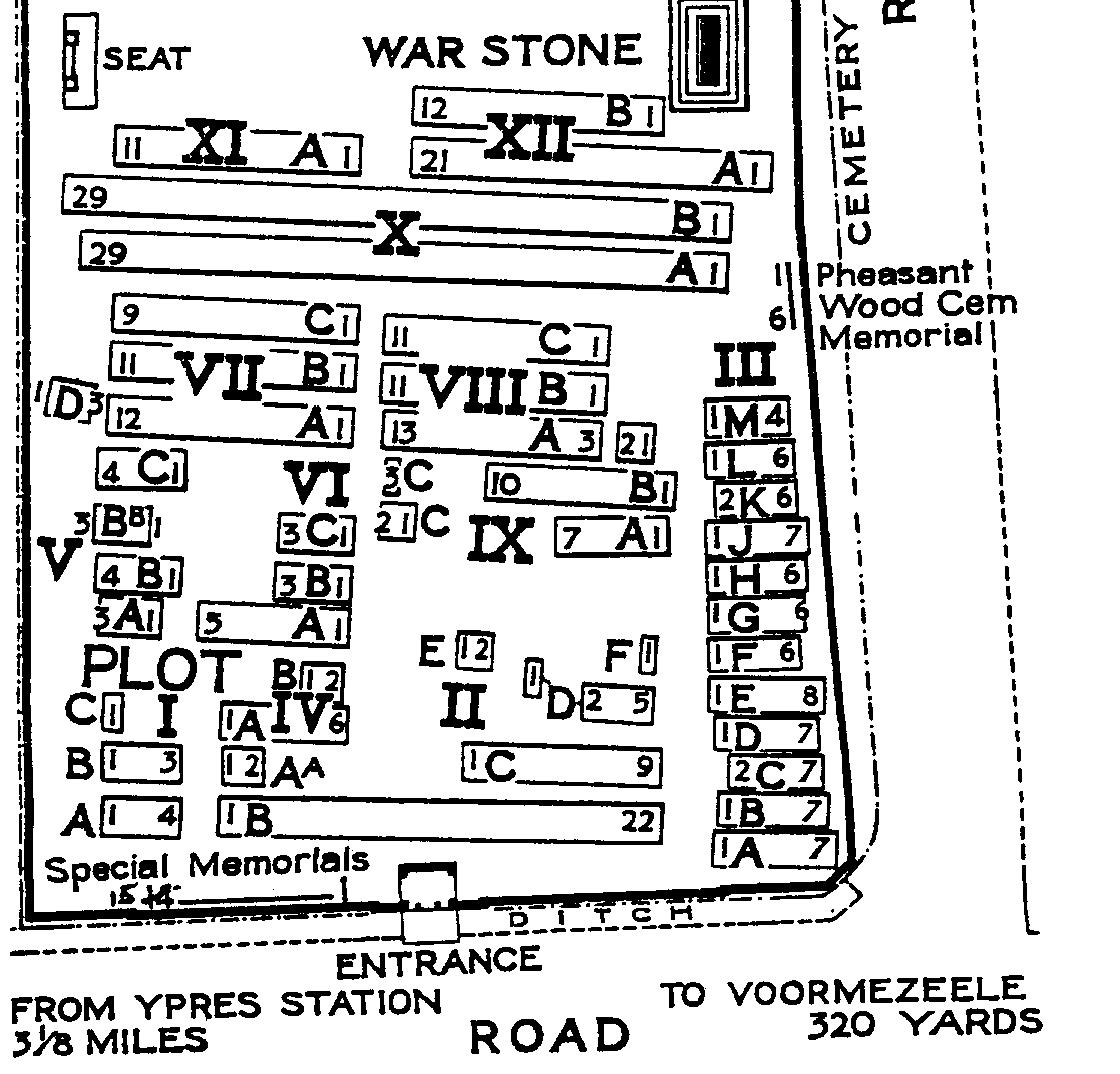 Location of Tristram Wilson's Grave, Voormezeele Enclosure No 3, Plot IV, row A No 4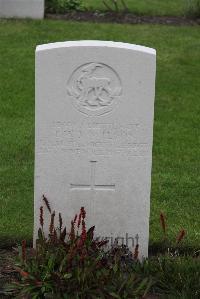 Sources:
Grateful thanks to Barrie Sheard and Maurice Cass of the Old Derbeian Society for supplying invaluable information and research.
Derbeian Magazine.
Ancestry.UK
Kew Archives – officers' service records
War diaries 11th Royal Warwickshires
War Graves photographic project – image of Tristram's Grave
Google Streetmap - image of cemetery
Commonwealth War Graves Commission - Plan of cemetery