Heroes of Chiswick - People and Parish
HOME PAGE -- ROLL OF HONOUR -- CHISWICK'S MEMORIALS
-- RESEARCH EXHIBITS -- PEOPLE AND PARISH -- CONTACT US
After the main project, some further research was undertaken. This included research on women and families who were particularly active in the parish during WW1.
Amongst those were Mrs Vidal, a driving force behind the creation of the Te Deum memorial window, Mrs Shelford, the Vicar's wife and Mrs Coombs, a Churchwarden's wife.
Two reports have been produced: one on Mrs Shelford and the other about the Hostel for Belgian refugees in Wellesley Road which had the active support of St Michael's Church and parishioners.
Key sources for our research were:
• Parish Magazines held at the London Metropolitan Archives in Islington.
• Local Newspapers, Rate books, Kelly's Directories and Electoral Rolls held at the Local Studies Section of Chiswick Library.
• Other records available on websites such as Ancestry and Find My Past.
            ------------------------------------------

In 2016, Heroes of Chiswick project member, Steve Newbold gave a talk ot the Church Fellowship on St Michael's Church and the parish around 1916 in the context of the Heroes of Chiswick project.
            ------------------------------------------

Towards the end of April 2022, The Chiswick Choir, now called the West London Chorus, sang in Bruges, Ghent and Ypres, with the Bruges and Ghent concerts in huge churches. The choir included six regulars from St Michael's Church Choir and the wife of a long standing congregant who was also present.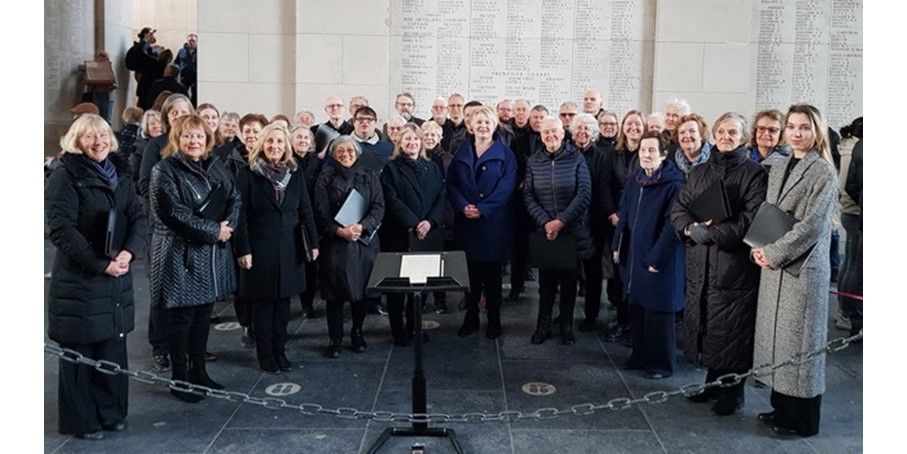 The choir had a slot at the Menin Gate and sang Holy is the True light by Harris and Rest by Elgar; they have a visiting choir or band every evening at 8 after the last post ceremony.

While there, they were able to locate the names of two of the Heroes of Chiswick commemorated on the Menin Gate; Philip Walpole Coverley on the left image above and Horace Walter Hardy right image above.